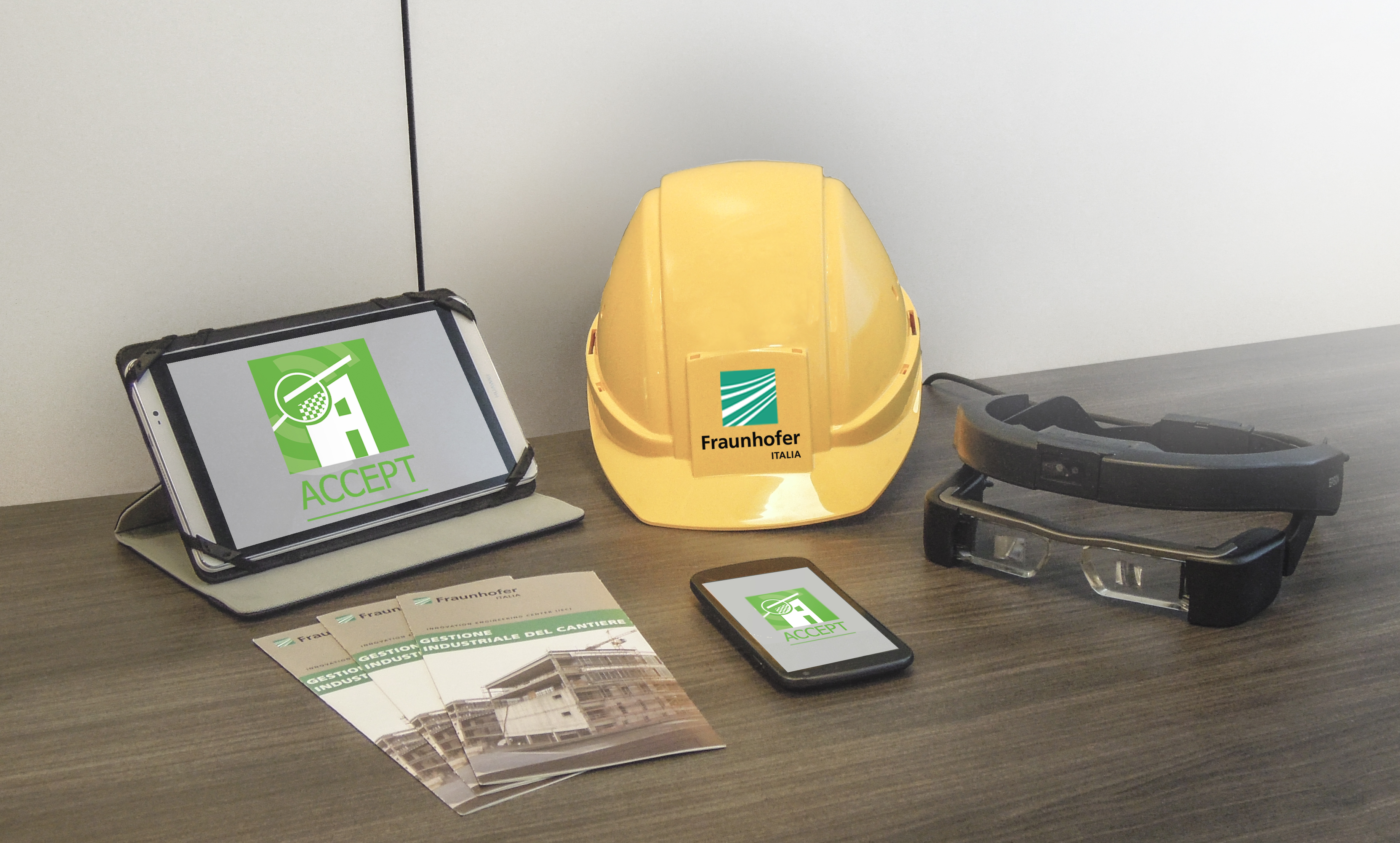 Fraunhofer Italia has started its first Horizon 2020 research project - ACCEPT - Assistant for Quality Check during Construction Execution Processes for Energy-efficienT buildings. The research project addresses the topic EeB03: Development of new self-inspection techniques and quality check methodologies for efficient construction processes within the call for EeB-Energy-efficient Buildings. The Consortium consists of eleven partners situated in seven different countries in Europe, who aim at developing a system that implements digital technologies for quality check and coordination of construction works.
Nowadays, the construction industry is one of the most inefficient and fragmented sectors, if compare to the manufacturing industry. Due to obsolete approaches and processes in the construction industry, the construction projects encounter often problems related to the mismatch between the expected and actual building performance. This mismatch is often caused by construction errors, which are generated by the wrong application of materials/components, poor collaboration as well as lack of knowledge and skills of workers.
The main objective of the ACCEPT project is to overcome these problems by developing an ICT system that adopts highly innovative technologies able to support site managers, master builders and workers on construction site. The ACCEPT system is developed to manage construction works according to lean principles and ensure the building quality and transfer knowledge in real-time to a specific user. The ACCEPT system allows to import from BIM software 3D models, components/materials and related information of each building project as well as to provide workers on site with visual instructions about work execution through augmented reality. This way, it is possible not only to minimize the energy-efficiency gap between as-planned and as-built project, but also to increase the overall reliability and productivity of the construction processes.
The ACCEPT system consists of three applications:
· CoOpApp (Construction Operator Assistant Application) uses augmented reality technology and runs on Smart Glasses to visualise and share information among stakeholders (i.e. assembly instructions) in real-time.
· SiMaApp (Site Manager Application) runs on mobile devices such as tablets or smartphones to manage construction works and collect data from a construction site via sensors.
· Web-based Dashboard monitors construction progress as well as controls the quality of construction works according to European standards.
Thereby, the ACCEPT system analyses collected data on the construction site and it provides involved stakeholders with real-time information and feedback. Furthermore, the ACCEPT system monitors construction progress and ensures the proper installation of building materials/components by standardized workflows and procedures for quality control, thus guaranteeing high performance and high quality of buildings.
The results of the ACCEPT project will be demonstrated within seven pilot projects (construction sites) in four different EU countries such as the UK, Belgium, Spain and Cyprus. The project will last 36 month and will be completed at the end of 2017.
In the meantime, Fraunhofer Italia attended several international plenary sessions and technical meetings in German, Spain and Netherlands. In June 2016, we took part at the first meeting with European revisers in Brussels.
To get more information about the project as well as about our current activities, please follow ACCEPT website, blog, Twitter and Newsletters.